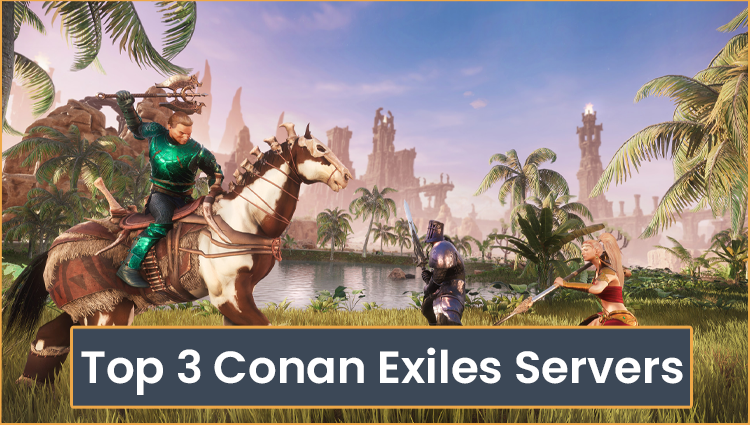 ---
Conan's journey continues into the harsh open world of the Exiled Lands. Cursed by an enigmatic serpent bracelet, you cannot escape past the massive Cursewall that surrounds the Exiled Lands, less the curse of the bracelet activates and ends you. You must find a way to survive in these lands, and build up your kingdom to dominate your enemies in both single and multiplayer worlds.
There are multiple features you'll want to look out for when choosing a server. Some of these might be an installation of mods, map changing, server location change, and many more.
Our 3 Conan Exiles Server Picks
1. MYRTANA
New role-playing server with Age of Calamitous and its own evolutionary game concept. Root server with high performance and fast connection to the Internet! You will be put in the shoes of a recently exiled barbarian, who was just saved from certain death by none other than Conan himself. You are then given the sole task of survival, which would seem relatively self-explanatory, one would think.
2. The Refuge
The refuge is a roleplay server (from 18 years), so RP is our top priority, both for beginners and experienced. There is a lot to discover in addition to the RP, in addition, we made sure that nobody gets bored outside of the standard game.
3. The Exiled Land
A caravan/warps system that makes many points directly accessible on the server. Some have to be unlocked permanently. Our fashion selection is focused on role play, there are many chic decorative items and extended building sets to let off steam. Spread around the world you can sometimes find houses that are uninhabited by a stroke of fate. At these houses, you will learn a little story around and you could take it over if necessary, but after a while, they disintegrate if they remain uninhabited. Discord is mandatory, there you will find all information and rules. You won't experience interviews etc, with us. Everyone is welcome who is at least 18 years old.
What are the different game modes?
There are a few different game modes in the world of Conan Exiles, from PVP servers where you fight to the death and loot other players to more friendly community-building servers that focus on teamwork.
Open World PvP
These servers have no rules other than fight or be fought, meaning every man and woman for themselves in a race to become top dog.
Roleplay Servers
Roleplay servers allow you to role-play your choice of character and commit acts such as murder without fear of punishment by staff. With great power comes great responsibility so don't abuse this mechanic because staff will boot you off if required!
PvP vs PvE
Here you can both kill each other and also together peacefully without griefing another. PvP servers mean you must fight other players for survival, but you can work together to capture outposts and kill merciless bandits. PvE servers are much more relaxed, you will not be attacked by other players, and you probably won't be seeing any griefers.
To Summarize
Deviating from Age of Conan's straight low fantasy RPG formula may prove to be disastrous for Funcom, but maybe dragging Conan kicking and cursing Crom to the modern era of PC gaming via the survival sandbox route is the wise option. Hopefully, more information will come soon, and we can get a clearer idea of what to expect. Conan

Exiles might not be the Conan game we were looking for, but it could still shape up to be a decent survival/building experience like DayZ or Rust.


Published by Jack on April 23, 2022